Jamaica
Jamaica is one of the three islands in the Northern Caribbean forming the Greater Antilles. Jamaica is famous for its beaches, cuisine and the friendliness of its people. The beaches in Jamaica are truly spectacular, from secluded private coves to Negril's world-renowned seven-mile stretch of powdery white sand, all looking out onto the ultra-clear, turquoise waters of the Caribbean.
For those who like to explore, the island offers a feast of contrasts. The north coast, with its popular resort areas of Montego Bay, Runaway Bay, Ocho Rios and Port Antonio, features fine coral beaches and broad plains where sugar cane, coconuts and citrus fruits are grown. On the western tip of the island is Negril, once a remote, swampy outpost but now a beachcomber's paradise. The southern region of the island offers a rugged coastline where majestic mountains plunge into the sea - like inspirational Lover's Leap in St. Elizabeth, a 1500-foot cliff of romantic legend.
The center of the island is mostly mountainous and heavily wooded, spotted occasionally with small mining towns and villages. And, of course, there's the famous Cockpit Country in the Northwest region, an eerie terrain of conical hills and deep sinkholes. The central mountain range, dominated by the 7,402-foot Blue Mountain, divides the south coast of the island from the north and extends from Half Moon Bay to Portland. This great variety of terrain and climate allows virtually everything to grow here.
Jamaica meaning is "land of wood and water". And so it is. With waterfalls, and springs, rivers and streams flowing from the forest-clad mountains to the fertile plains, Jamaica has one of the richest and most varied landscapes in the region.
Suggested Itineraries
Recommended accommodation in Jamaica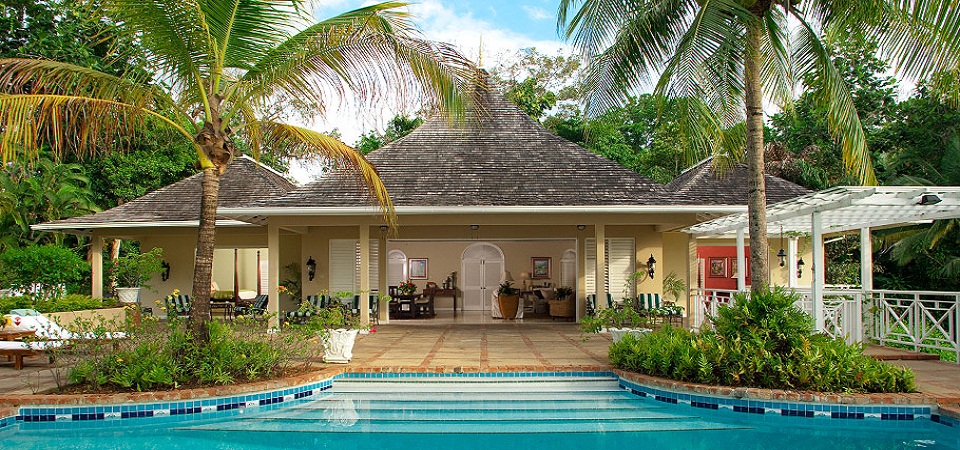 Sandals Royal Plantation's pervading sense of glamour is infused with passion and warmth that is uniquely Jamaican..
The Caves' two acres of seafront are designed as an artful labyrinth combining the magnificence...